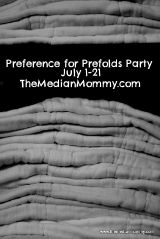 Welcome to Day 3 of
The Median Mommy's
Preference for Prefolds Party! Prize Pack #3 is another amazing pack, full of wonderful handcrafted cloth diapering goodies!
Green Mother Crafts
is the result of Jo and Angela's more than
20 years
of experience cloth diapering! Founded with a commitment towards the earth, Green Mother Crafts' goal is "to make affordable products that are functional, stylish, and have a positive impact on our environment." Selling locally for 3 years, Green Mother Crafts recently expanded to begin selling their earth-friendly products online. GMC's beautifully crafted items range from mama cloth, to wet bags, to cloth diapers and covers. I had the opportunity to try one of GMC's Hybrid Fitted diapers (and LOVED it), you can check out the review
here.
You can check out her latest creations and special offers on her Facebook page
here
.
The beautiful creations of
Rumor Has It
are the handywork of Constance. I was drawn to Constance's Etsy store by the beautiful fabrics and designs she uses to create her handbags, wallets, burp cloths and blankets. You can also find her on Facebook
here
.
Gotcha Covered Diapers is the handiwork of Emily Hicks, having started creating diaper covers for her cloth diapering daughter. Once she started, Emily said that she "fell in love with designing and making these!" You can purchase any of her fun and funky prints, with sizes fitting 2-40 lbs., in her Etsy store here. You can also see her latest additions special offers posted on her Facebook page.
Amy Washington is the talented seamstress behind
Mama Bear Baby Wear
. Mama Bear Baby Wear offers a range of items appealing to natural parenting aficionados: carriers, wonderful wool covers and homemade lanolizing spray, training pants, diaper covers, hybrid fitted diapers and more!
Snappi Baby
, makers of the gadget that made diaper pins obsolete -- The Snappi! Check them out on
Facebook
!
One lucky winner will receive:
1 Diaper Cover & 1 Set of Cloth Wipes from Green Mother Crafts
1 Diaper Cover from Gotcha Covered
1 Beautiful Set of Prefolds/Burp Cloths from Rumor Has It
1 Hybrid Prefold Diaper from Mama Bear Baby Wear
1 Pack of Snappi Baby Diaper Fasteners
Enter through the form below:

Disclosure: This giveaway is not associated with, affiliated with, endorsed by, sponsored by, or connected to Facebook, Twitter, Pinterest, or any other social media platform in any way. Social media outlets are in no way responsible for sponsor prize fulfillment. Leettle Baby is not responsible for prize fulfillment and did not receive compensation for posting this giveaway.