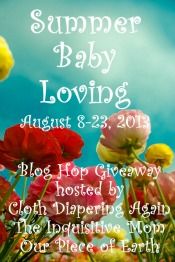 Announcing another fun giveaway opportunity for my blogger followers!

To help celebrate the birth of Melissa's (Cloth Diapering Again) third baby, The Inquisitive Mom and Our Piece of Earth are co-hosting this event with Cloth Diapering Again. They are rounding up an awesome grand prize package with stuff for mom and baby in the Summer Baby Loving Blog Hop Giveaway! Leettle Baby will also be participating in this event!

Come join in the fun!

Each participating blogger must have their own prize (mom or baby friendly) to give away on their own blog worth at least $25. Sign up HERE!

Spread the news and let's have some fun celebrating! All bloggers (except the hosts) will be eligible to enter to win the grand prize. Sign up here.

If you are a store owner, and would love to sponsor Leettle Baby in this event, please contact me using the form on the right hand side of my blog.

If you are a blogger looking for other events to participate in, go to my "Upcoming Events" tab above or click on the "Blogger Sign Ups" tag below.