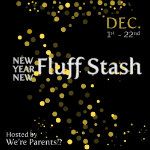 Welcome to another day of Fluffy giveaways! If you have missed any of the New Year New Fluff Stash Giveaways, be sure to click on my "Giveaways!" tab at the top of my blog and enter to win cloth diapers and accessories!


Little Love Buns LLC is a US based company and was created by a mother of 3. After she began to cloth diaper, she had trouble finding the perfect detergent that was effective, eco-friendly, and gentle on baby's skin. After months of experimenting and testing, she had finally created the perfect detergent.



Oh, and did I mention the scents? Prepare to drool!

Strawberry Watermelon
Sweet Pea
Pink Sugar
Cucumber Melon
Cherry Almond
Peach Mango
Apple Cinnamon
Candy Apple
Pumpkin Pie
Country Spice​​​​

Scents by email request only...
Kiwi-Fruit Berry
Blueberry Cobbler
Orange
Raspberry
Tea Tree
Hawaiian Rain
Pink Grapefruit
Pomegranate
Lavender
Lavender Vanilla
Ocean Breeze
Citrus
Berry Fruit
Thai Coconut

...and of course, Little Love Buns is available in "unscented" form.

The Little Love Buns website has more than just detergent, but also cloth diapers, cloth wipes, nursing pads, wet bags, wipe bits, and bar soap!

You can buy this detergent on the Little Love Buns website in a variety of sizes...even in sample packs!

Be sure to visit Little Love Buns Facebook page here




How would you like to try this detergent for yourself?

Enter to win a bag of Little Love Buns detergent via Rafflecopter below!

Open to US & Canada

Giveaway ends December 23, 2012 at 12:01 am est (rafflecopter time)

a Rafflecopter giveaway


Special Thanks to We're Parents!? for organizing this great giveaway!

Disclosure - All opinions listed above are entirely my own, and in no way was I compensated for this post. Leettle Baby is not responsible for the delivery of prize.