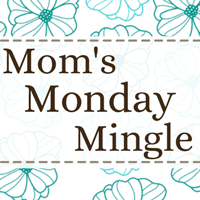 Last week there were 253
moms ready to mingle!
Please help spread the news on this growing hop!
Please tweet about this hop!
RULES:
1. Please follow each hostess. They are 1-6 in the list!
I do FOLLOW back and really love all the comments! If you are new let me know in the comment section below and leave your blog address so I can return the follow. Be sure to do this for all of the other blogs that you visit as well ;)
2. Try to visit at least 4 blogs that interest you. Just don't throw your name into the link up, hoping to gain followers. Participate, make friends, and have fun! I know I have made a lot of great blog friends ;)
3. Feel free to grab the new button and display it on your sidebar or link it to the post. You can snag the code
here
.