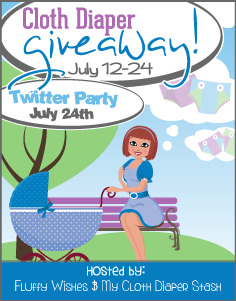 If you have RSVP'd (by entering in the Fluffy Wishes Giveaway)to the twitter party, you are eligible to win even more prizes! If you do not tweet, you are still eligible for the remaining 23 prizes.


3 Prizes are Mystery Only Twitter Prizes that can only be claimed if you tweet once with the hashtag #fluffywishes once between 9-10pm EST.

These prizes are sponsored by:
Boba ($50)
Fluffy Wishes ($70)
Rumpkinz ($21)


If anyone would like to donate to Fluffy Wishes...either by a financial donation, or a cloth diaper donation, <--- please click on these link (if you make a donation you will automatically be entered to win another prize...more details coming soon). Ribbons & Stitches is offering 5% off most of the items in it's store. Just use the code twitterjuly.

Scents from the Moon is having a giveaway, be sure to enter! https://www.facebook.com/ScentsFromTheMoon/app_228910107186452

Be sure to check the e-mail address that you provided via the Rafflecopter form because all winners will be e-mailed following the twitter party!!!

We are hoping to reach a goal of raising $600 for Fluffy Wishes. In order to help us reach our goal, we would love to run another giveaway! More details to be announced at the Twitter Party!


Details of the Twitter Party:


When: Tuesday July 24th 9-10 pm EST

Where: TweetGrid.com or TweetChat.com or Whatever You Like

Who: Everyone Can Come - as long as they filled out the RC form, you are eligible

Hashtag: #FluffyWishesHosts: @fluffywishesmi @MyCDStash @Edwardsfatty @justaddcloth

See you there!