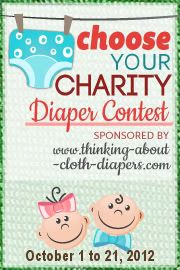 2012 Thinking About Cloth Diapers Choose Your Charity Blogger Signups
Are you a blogger? The Choose Your Charity Blogger Signups are now open. This event promises to be huge, and we need your help to get the word out!

Confirmed Sponsors
In a few short days, we have already received confirmation from the following sponsors, with more to come!
Funky Fluff
Leettle Hands and Feet


Smush Tush Cloth Diapers

Glow Bug Cloth Diapers

Your Chance to Win!
Every participating blogger will be entered to win! Two lucky winners will each receive a $20 credit for blog buttons or artwork from the talented graphic design firm Design by Miranda!
Check out
Design by Miranda's
website for more on the affordable design services she offers. This credit will buy you blog or event buttons (just like our event button down further, which she designed), or get you closer to an even bigger design package!
Plus: Nominate a Charity of Your Choice
Here's a fun twist for you! Each blogger can "nominate" up to 1 cloth diaper or children's charity! Build a story, and get your blog readers on board! If they don't have a charity in mind already, ask them to choose your charity when they submit their cloth diaper review!
The charity that is selected most often will receive a $30 donation!
Note: To participate, you must have a family friendly or cloth diaper related blog.

Here's What You Need to Do!
There are 4 simple requirements for our Choose Your Charity Blogger Signups:
Add our button to your homepage prior to and for the duration of the event (code available below)
* Publish a post on your website to notify your readers of our event and provide publicity for our event sponsors
* Post our event on Facebook or Twitter at least twice during the event
* Join the
Facebook Event Group
(this is a closed group)
Optional: If you'd like to be included on the Choose Your Charity Rafflecopter form, links are $5 for 2 - all fees will be used to top up the charity cash donation for the grand prize! To be included, please send $5 (as a gift) via PayPal to charity AT thinking-about-cloth-diapers DOT com
Tell Your Friends!
We're also offering a referral prize! The blogger who refers the highest number of bloggers to help promote this event will win a $10 design credit from
Design by Miranda
!
For more info. and to enter to win the blogger prize, click
here
!