The 2012 Choose Your Charity Cloth Diaper Charity Awareness Event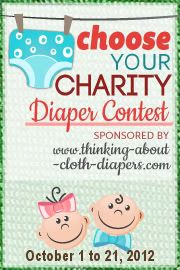 Introducing the Choose Your Charity Cloth Diaper Contest
This October,
Thinking-About-Cloth-Diapers.com
is kicking off their first of (hopefully!) many charity events aimed to build awareness of cloth diaper manufacturers and retailers with strong morals and a focus on doing good things through their own charitable work. They want to introduce you to some fantastic companies who are using their brands and products to deliver positive changes throughout the world!
Thinking-About-Cloth-Diapers.com
wants to know which children's or cloth diaper charity is nearest and dearest to your heart! Submit a review of your favorite company to enter in their giveaway. If your name is drawn, you'll win a cash donation to a charity of your choice*, plus a cloth diaper pack to keep!
* All charities must be registered children's or cloth diaper charities.
As owner of
Leettle Hands and Feet
and writer of the Leettle Baby blog, I am excited and honored to be a part of this cloth diaper charity event and would greatly appreciate your nomination!
For more info about this event and how to submit your entries, please
click here
.
I will post more information as it becomes available, so if you are not yet a Leettle Baby follower, then please sign up to receive e-mail notifications
here
.
Thank you!
~ Alanna