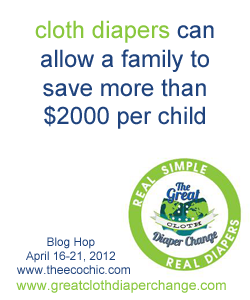 One of the cheapest ways, hands down is to cloth diaper with pre-folds (about $1.50 - $3.00 depending on where you buy them) and vinyl pants (
$7 for a 3-pack
). Cringing at the sight of the word "pre-folds" and think "the type you have to pin?".
Well, here is some good news to those of you who want to diaper cheaply with pre-folds MINUS the pins or
Snappis
!
Pre-folds and One-size Covers
For about $14 you can buy the one-size
Flip cover
, which can be used for more than one diaper change. The cover as two interior flap that holds the insert(s) in. Instead of purchasing the inserts that cost an additional $5 each, use a pre-fold instead! (Not only are they cheaper at $1.50 - $1.75 each, but they seem to be more absorbent according to customer reviews). So when it is time to change your child's diaper, simply pull out the cloth and toss it into the diaper pail or wet bag. The best thing about these covers? They are one-size, which means that you can use them from birth until potty training using the 3 button rise adjustments!
There is also the
EconoBum cover
for $8.95, which can also be paired with a pre-fold. You also have the option to buy a
cover with 3 pre-folds
for only $11.95 including shipping.
Or you can use what I used with my two boys.
These covers
are currently $5 each, also one-size, and are very similar to the Flip cover that I had listed above. There is a front interior flap that holds in the inserts or pre-fold. You can also buy a cover & 3 pre-fold pack at
Leettle Hands and Feet
also for $11.95 including shipping.
Assuming that you will change your newborn 12 times per day...
The Flip system - Totals to $73.80 for a full day supply
Flip covers
(per day) $13.95 x 4 = $55.80
Pre-folds
(per day, infant size) $1.50 x 12 = $18.00
The $11.95 cover & pre-fold deal from Cotton Babies or Leettle Hands and Feet
(per day) $11.95 x 4 = $47.80
Now if you wanted to wash your pre-folds every other day, you would multiply these packages by 2, for a grand total of....drum-roll...

$111.16
for the Flip system or
$95.60
for the EconoBum or Leettle Hands and Feet diapering system that will last from birth to potty training! A complete diaper stash that can be used with more than one child for 2 cases of disposables!
If pre-folds are still not your thing, consider the one-size pocket diapers. They also fit from approximately birth until potty training.
There are various brands and range anywhere from $6-$20 each depending on the brand and whether or not they are USA made.
Personally, I have had no problems with the made in China diapers (under different labels) that I had purchased for $6-$8 (after purchasing an additional insert per diaper, since they normally come with one)and have used the same pockets from my first child with my second, so I have never found the need to purchase the more expensive diapers. Of course, at the time I had purchased my first set of pockets, my husband and I were without a job and chose the cheapest ones possible. To this day, my youngest child is wearing the same pockets that were purchased years ago.
My best advice to someone who is nervous about taking the plunge and buying their first stash of diapers is to buy one of each diapering system (pre-folds, covers, All-In-Ones, pockets, etc.)to see what works best. That way a large amount of money is not being wasted and you are stuck with diapers that you do not like.
There are places where you can sell your diapers like
Cloth Diaper Swap
on Facebook. I have sold many of the diapers on that page that others loved to get off of my hands.
If you are considering cloth for your child and have any questions, please let me know! You can ask in the comment section below or e-mail me at leettlehandsandfeet@gmail.com
- Alanna
P.S. Don't forget! This Saturday, April 21st, is The Great Diaper Change! Please click on the picture below for more information on event locations. Join me and thousands of others wanting to set a new world record of changing the most cloth diapers at one time!