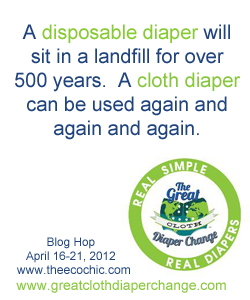 Pretty shocking fact huh? That means that a disposable diaper will finally decompose long after your children, grandchildren and great, great, great grandchildren will be gone...
The environmental impact aspect of cloth diapering was not the determinate factor on why my husband and I decided to cloth diaper our child (and future children), the thought really never crossed my mind until we had used disposables. Even though we had bought a sizeable cloth diaper stash of a couple dozen pre-folds, a half dozen Gerber waterproof pants, and pins, we thought that we needed a big box of Huggies newborn diapers.
"Little Man" was about 6lbs when he was born, and quite skinny. I struggled with pinning his diapers and wish that we had bought the preemie size. His diapers were so loose that they were useless, so I thought that dipping into the Huggies stash was justifiable. Every couple of days though, I would have to add a kitchen sized bag full of diapers into the garbage.
Then I started thinking, if I have to throw this much out everyday, then how much is filling up our landfills each year?
Well, this picture is worth a thousand (or should I say 5,000)words...
Picture courtesy of everythingcloth.com
Now multiply that by the number of babies that are being diapered with disposables.
Did you know that back in the early 1990's, states were considering on passing legislation on taxing the sale of disposables or even banning their sale altogether? Check out this excerpt from an
article
published in Mothering Magazine regarding Procter & Gamble's response...
"Procter & Gamble, the nation's largest manufacturer of disposable diapers, fearing a loss of market share, commissioned a study by Arthur D. Little, Inc., on the environmental impact of disposable diapers. The study came to the conclusion that, lo and behold, disposables were actually no worse for the environment than cloth diapers. Procter & Gamble followed with an ad showing tree roots in compost, stating, '90 days ago this was a disposable diaper.' After several lawsuits based on the fact that composting facilities for disposable diapers do not actually exist, the ad was pulled, but not until millions of parents had read and believed it. Meanwhile, the National Association of Diaper Services sponsored several reports of its own, prepared by consultant Carl Lehrburger, showing that there was a clear environmental advantage to using cloth diapers."
Hmmm...and why don't composting facilities exist? Time for an experiment - simply toss a diaper in your compost pile. The only way this diaper will "decompose" within 90 days is if an animal gets to it first (which may just end up in pieces scattered across your yard) or you have had enough of the smell, so you just chucked it in the garbage.
As if all of this information was not disturbing enough, read these disposable diaper facts published by The Real Diaper Association :

* In 1988, over 18 billion diapers were sold and consumed in the United States alone.

* It is estimated that 27.4 billion disposable diapers are consumed every year in the U.S.

* The instructions on a disposable diaper package advise that all fecal matter should be deposited in the toilet before discarding, yet less than 1/2 of 1% of all waste from single-use diapers goes into the sewage system.

* Over 92% of all single-use diapers end up in a landfill

* In 1988, nearly $300 million dollars were spent annually just to discard disposable diapers, whereas cotton diapers are reused 50 to 200 times before being turned into rags.

* Disposable diapers are the 3rd largest single consumer item in landfills, and represent about 4% of solid waste. In a house with a child in diapers, disposables make up 50% of household waste.

* Disposable diapers generate 60 times more solid waste and use 20 times more raw materials, like crude oil and wood pulp.

* The manufacture and use of disposable diapers amounts to 2.3 times more water wasted than cloth.

* Over 300 pounds of wood, 50 pounds of petroleum feedstocks and 20 pounds of chlorine are used to produce disposable diapers for one baby EACH YEAR.

* In 1991, an attempt towards recycling disposable diapers was made in the city of Seattle, involving 800 families, 30 day care centers, a hospital and a Seattle-based recycler for a period of one year. The conclusion made by Procter & Gamble was that recycling disposable diapers was not an economically feasible task on any scale.
The purpose of this post is simply to give a snap shot of the environmental effects of disposable diapers on the environment, and not at all to shame those who have or are currently using them on their children. Like I admitted earlier in the post, I have diapered both of my children with disposables from time to time, and it wasn't until a couple of months ago that I diapered them in cloth exclusively.
If you are interested in becoming a cloth diaper advocate, please
join
me and many others in becoming an RDA (Real Diaper Association) Member.
Also, if you are currently using cloth diapers for your little ones or are interested in doing so, please join thousands of others in breaking a world wide record for most cloth diapers changed this Saturday, April 21st. You can find an event
location
and more information on The
Great Cloth Diaper Change
.
If you have any questions/comments, feel free to leave them! You can also e-mail me at leettlehandsandfeet@gmail.com
- Alanna